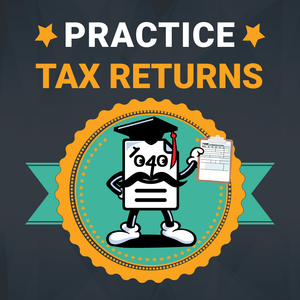 Get ready for tax season!
With the year coming to a close, tax preparers are getting ready for the busy season ahead. If you feel you need extra practice with form 1040, we have put together a Practice Tax Returns exercise packet that will increase your confidence.  
The packet will take you through real life tax preparation scenarios. After you complete each scenario, you will be provided with an explanatory answer that helps you learn and improve. It provides information on what's changed for the new tax season and prepares you with important questions you will need to ask your clients.
The exercise packet will benefit you in the following ways:
Gets you familiar with the software you will be using
Provides updates on the latest tax laws
Provides you with the right questions to ask your clients
Gives you the confidence you need
Please note, while the exercise packet teaches you how to input information and provides explanations, it does not teach you how to electronically file the return and it does not give tax advice. It will help you learn your software, but it does not provide software support.