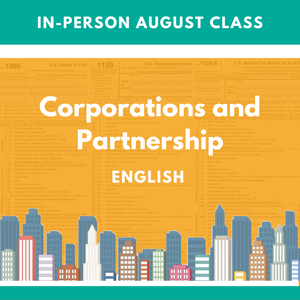 Limited Seating! Register early to reserve your spot!
This class will take place LIVE IN PERSON in Houston, TEXAS.

CLICK HERE TO BOOK YOUR ROOM
www.houstonintercontinentalairport.doubletree.com
Location

DoubleTree Hotel
Houston Intercontinental Airport 15747 JFK Blvd Houston, TX 77032
Date:
August 15th - 17th, 2023
Time:
Class: 8 AM - 12 PM
Break: 12 PM - 12:30 PM (Lunch will be provided)
Class: 1 PM - 3 PM
We will be covering the following:


This section will be available online to complete BEFORE Day 1.
Bookkeeping for Tax Preparers, Payroll, Sales Tax, and Depreciation and Amortization. 

Every tax preparer and accountant somewhere along the lines needs to have a fundamental basic understanding of bookkeeping in order to ensure they are using the correct numbers when preparing a tax return or otherwise presenting financial information to their client. Unfortunately, clients are often underprepared and unable to complete this task successfully on their own due to the inherent complexities. This 6-part course will take you through 6 main elements of bookkeeping and accounting basics so you are able to have the confidence the information is properly assembled and accurate. This is also a great course to have anyone assisting you in this capacity attend, in order to have the best chance of providing accurate financial information. 
In-person topics.

LLC's, Sole Proprietorships, Partnerships, and Qualified Joint Ventures.

What is in a partnership and how it is started? This day will cover the capital account, why a General Partnership agreement is important, UPE and Section 199A. There will also be a line by line review with real examples of Form 1065, Form K-1, and the General Partnership Agreement. This day will also cover the advantages, disadvantages, and which clients will benefit in becoming an LLC. 


C-Corporations.

How do you form a corporation? This day will cover forming a corporation, business entities, advantages, disadvantages, ownership, structure and taxation. There will be a line by line review of Form 1120 with an example of filling it out directly on tax software. An explanation of dissolving or canceling a corporation, and fees or penalties will be covered during this day.   

S-Corporations.

What's the difference between Schedule C and S-Corporation? On this day you will learn advantages and disadvantages of becoming an S-Corporation, corporate structure, need for reasonable compensation, allocation of income, and tax savings. There will be examples of converting clients and a line by line review Form 1120S and Form K-1. You will have a class exercise on Shareholder basis and filling out form 2553. This will help you understand Shareholder's stock basis and what causes it to adjust. We will cover an overview of form 2553, how to correctly filling out the S-Election form, and file late S-election.