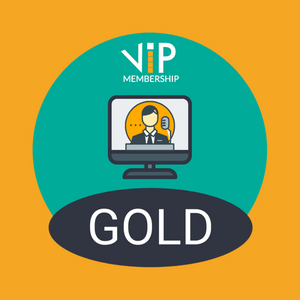 Our VIP Membership includes many perks to help you get ready for tax season.
Click here to view all of the membership levels.
Become a Gold VIP member today! This package is recommended for anyone that enjoys learning by webinars. The membership contains our continuing education webinar or beginner webinar along with the Level I Corporations & Partnerships course.
Included for Gold Members:
Ask a Tax Pro

*Free Ground Shipping

**Membership Plaque

10% Discount on select products

ProTaxPro Software (50 Free Tax Returns)

Practice Tax Returns

(1) Continuing Education Course ( Self-Study or Live Webinar)
Continuing Education Bundle
(1) Beginner Course for staff ( Self-Study or Live Webinar)
Bookkeeping Bundle
Level I Corporations & Partnerships
Ask a Tax Pro
Let us do the research for you. Submit an unlimited amount of form 1040 questions to our Enrolled Agents. All you need to do is email your questions to askataxpro@latinotaxpro.zendesk.com within 24-48 hours our team will research your question to provide a detailed response with resources to help you and your client.
Beginner Course
You will have a choice of enrolling a staff member to ONE of the following options: Self-Study 60 Hour, Live 60 Hour Webinar, Self-Study Tax Preparation.
Our beginner course will help your staff learn the basics of form 1040 and guide them on the steps to meeting requirements and applying for a PTIN. Click here to view more info on state requirements.
Not sure which course to pick?
CTEC 60 Hour is ONLY for California tax preparer
CE Course
You will have a choice of enrolling yourself into ONE of the following options: Self-Study 20 Hour, Live 20 Hour Webinar, Self-Study AFSP, Live AFSP Webinar, AFTR Self-Study, 15 Hour Self-Study.
Are you a seasoned tax professional? Do you need to stay on top of the latest updates? Our CE webinar will provide the credits you need to meet state requirements and show your clients you are the subject matter expert in your industry with yearly certification.
Not sure which course to pick?
CTEC 20 Hour is ONLY for renewing California tax preparer.

Annual Filing Season Program (AFSP) 

is an annual voluntary program for tax return preparers. It aims to recognize the efforts of non-credentialed tax return preparers who aspire to a higher level of professionalism. 

More info here

.

15 Hour course is for tax preparers that need to earn 10 hours of tax law, 3 hours of ethics, and 2 hours of updates.
ProTaxPro Software
Receive 50 FREE 1040 tax returns with ProTaxPro software.

This package features a 50 unit federal and state returns, free e-filing, and free printing in a convenient, secure, and cloud-based environment with no bulky downloads or updates.

Need more returns? Ask about their unlimited 1040 Only package! Receive a special discount when you mention you're a VIP Member. View more info at ProTaxPro.com
Membership Plaque
Display your official VIP Membership plaque & certificate in your office. The plaque will only be sent to new members, renewing memberships will only receive a certificate.
Practice Tax Returns
The packet will take you through real-life tax preparation scenarios. After you complete each scenario, you will be provided with an explanatory answer that helps you learn and improve. It provides information on what's changed for the new tax season and prepares you with important questions you will need to ask your clients.

Bookkeeping Bundle
This course is an overview of basic bookkeeping and accounting principles, for further training we recommend taking a basic accounting course at your local college. The bundle includes Bookkeeping for Tax Preparers, Payroll, Sales Tax, and Depreciation & amortization.

Corporations & Partnerships
Are you ready to take your tax pro career to the next level? Or do you need a more in-depth course to learn about Corporations & Partnerships? You can choose between level I or II of our course to learn about LLC's, Sole Proprietorship, Partnerships, Qualified Joint Venture, C-Corp, and S-Corp. More info here.
end
* Free ground shipping is only applicable to ONE address. Items shipped to multiple locations will be charged shipping fees.
**Membership plaque will be sent to new sign-ups. Renewing memberships will receive a yearly certificate.